Supplerende
Wikipedia om Ismail Kadaré
[PDF]
1977: Ismail Kadaré: »The Literature of Socialist Realism is Developing in Struggle against the Bourgeois and Revisionist Pressure«
1979-1990: Tilsvarende artikler
1982: Enver Hoxha: »The Titoites«
1984: Dritëro Agolli om Kadaré's 'The Great Winter'
1984: Dritëro Agolli om Kadaré's 'The General of the Dead Army'
---
Ismail Kadaré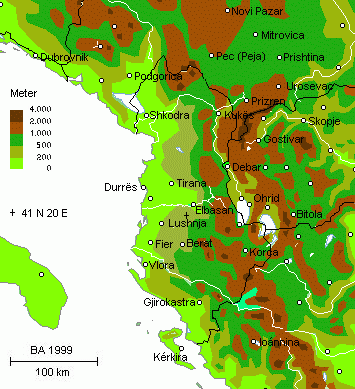 Klik på kortet, hvis du vil have det forstørret /
click http://bjoerna.dk/kort/Albanien.gif to enlarge it
Ismail Kadaré blev født 28. Januar 1936 i Gjirokastra i det sydlige Albanien, hvor de kulturelle og religiøse forhold er præget af nærheden til Grækenland, og hvor også Enver Hoxha var født. Da Ismail Kadaré var 3 år gammel blev Albanien besat af Italien, derefter fulgte 2' Verdenskrig - og da det socialistiske Albanien blev proklameret 11.1.1946 var han kun knap 10 år gammel. De næste mange år frem til han var omkring de 55 levede han i et socialistisk regime, hvilket har påvirket ham og hans forfatterskab overordentligt dybt - tematisk såvel som arbejdsmæssigt og personligt.
Kadaré viste gode evner for at skrive og fik muligheden for at blive professionel forfatter. Dette kunne imidlertid
kun
lade sig gøre, hvis han kom overens med det socialistiske styre, og hvis han - langt hen ad vejen - imødekom dé krav der blev stillet til ham.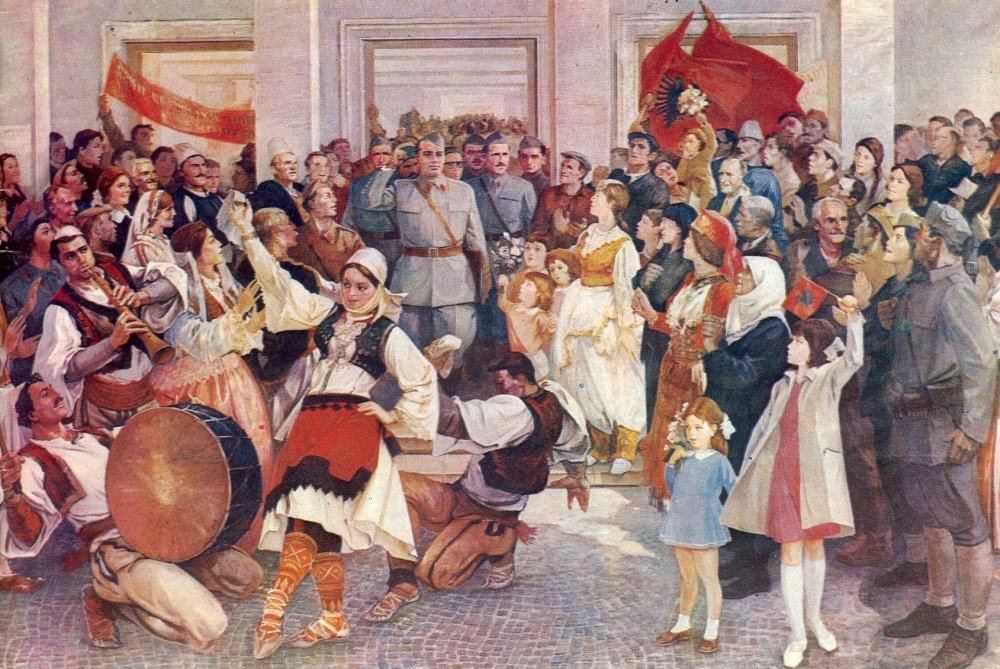 11.1.1946 Den Albanske Folkerepublik proklameres. Maleri af Fatmir Haxhiu. I centrum Enver Hoxha i militæruniform. Th for ham, men lidt længere tilbage Mehmet Shehu - ligeledes i militæruniform. Kopieret fra
»Albania today«
# 1/1981. Hvis du vil se et udsnit af Hoxha og Shehu, så
klik
på billedet.
Forholdet mellem Kadaré og det socialistiske styre var komplekst. Efterhånden som Kadaré's ry voksede, efterhånden som han også blev en anerkendt forfatter uden for landets grænser, blev han betragtet som et aktiv, og både den politiske leder, Enver Hoxha , og hans kone, Nexhmije Hoxha, der spillede en stor rolle på det kulturelle område, synes at have holdt hånden over ham og at have protegeret ham. Samtidig var der imidlertid adskillige i det politiske system, der betragtede ham med mistro, og han blev desuden konstant overvåget af sikkerhedsmyndighederne,
»Sigurimi«
, hvad Shaban Sinani har dokumenteret i to bind, se .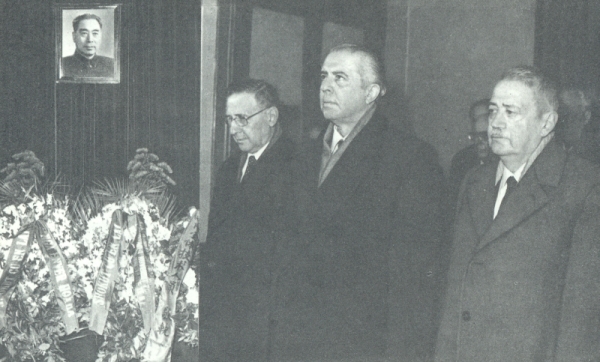 Premierminister Mehmet Shehu, førstesekretær Enver Hoxha og parlamentsformand Haxhi Lleshi. Højtidelighed i Tirana i januar 1976 i anledning af Chou-En-Lai's død.
De første mange år handlede Kadaré i store træk som forventet af det socialistiske styre, det fremgår fx artiklen
»The Literature of Socialist Realism is Developing in Struggle against the Bourgeois and Revisionist Pressure«
. Artiklen er »overgearet« - selv når man tager tiden omkring 1977, hvor Albanien stadig samarbejdede med Kineserne, men hvor man så småt var på vej til at stå alene, i betragtning, tag følgende eksempler :
1/ History has known many conflicts among different literary schools, trends and tendencies. But the struggle of realist socialist art against revisionist bourgeois art is not of the same nature. This is a struggle of a new type, part of the class struggle, a struggle of the revolution against counter-revolution, a life-and-death struggle of healthy art against the sick art of the bourgeoisie and revisionism, which stinks of death and decay.

2/ In his speech of December 20th, 1974, Comrade Enver Hoxha points out that never before has there been imperialist propaganda, of such variety and breadth, for the degeneration of people and society in general, as in our days. Whole regiments of writers are included in this army of the world counter-revolution. Night and day, its kitchen is concocting all sorts of poisonous dishes for the degradation of man. Over the recent decades, the revisionist cuisine, coarser in some respects, but more refined in others, has been added to the old bourgeois cuisine. Their foul alliance, their supplementing each other in order to make the encirclement of the progressive forces more complete, have rendered them even more dangerous.

3/ Hence, the so-called flowering of bourgeois and revisionist art conceals only a profound stagnation, its external gigantomania hides only an internal dwarfism, whereas its pseudo-modern veneer covers only an endless obsolescence. Making a profound Marxist-Leninist analysis of the conservative essence of modern revisionism and the bourgeoisie, Comrade Enver Hoxha says that, »those who call us conservative are the conservatives«. And this is in the logic of things. Since they are trying to preserve or to re-establish an obsolete order in the world, regardless of what they call themselves, in essence they remain conservatives and ultra-conservatives. The same may be said of their art, too. It is not fay chance that, in their spirit, in their content, even in their style and intonation, many of the works of the present-day decadent bourgeois literature are reminiscent of the Bible, the New Testament, the Koran, the Talmud and other tattered remnants of the Dark Ages. And this is one of the most coveted experiences that the revisionist art has borrowed from the decadent art. The Revelation of St John, or the Apocalypse, has become a favourite source of motifs for the revisionist pacifists. And, for them, the Apocalypse is the revolution and the revolutionary struggle.

4/ The sphere of criticism, of theoretical and philosophical literary thinking, is an important field in which this struggle has been developed and should be developed further. Not only the critics and scholars, but all the artists are duty bound to assist in the timely detection and prevention of alien influences, and to render them harmless, whether they come from the bourgeoisie or the revisionists, whether they are of the nature of a [Roger] Garaudy or [Ernst] Fischer, a Sholokhov or Solzhenitsyn.

5/ Applying this profoundly Marxist-Leninist thesis to our sphere of literature and art, we can say that the quarrels or rapprochements between the bourgeois and revisionist writers are just the continuation of the quarrels and rapprochements of their patrons. Hence you cannot rely on the arguments of the one art to combat or expose the other. To us writers of socialist realism, the revisionist literary lights, whether official writers in their countries or dissidents fled to the West, are the two sides of the same coin, for both of them have betrayed the art of the revolution for the art of the counter-revolution. Therefore, they are equally alien and dangerous to communism. Although they have mobilized entire regiments of men of letters and artists, both these forms of bourgeois and revisionist art are essentially weak, because they have no future. Therefore, in our fight against them, attack and not just defence, should characterize us.
Kadaré blev gjort til parlamentsmedlem (hvad der fx kan ses på et billede fra 1976, se illustrationen i artiklen om
1980?: »Ufuldendt april«
[PDF]) og til næstformand for Den Demokratiske Alliance, som Nexhmije Hoxha var formand for. Den Demokratiske Alliance var en meget vigtig organisation der havde til formål at samle en række politiske, kulturelle og andre grupper og personer om Kommunistpartiet.
Senere - omkring 1980 - blev det tydeligere at han var blevet skeptisk over for styret, måske især over for nogle af dets udartninger? På dén tid skrev han
»Drømmenes Palads«
, der på overfladen foregår i Istanbul i 1800-tallet, men som i virkeligheden foregår i 1970'ernes Albanien.
Kadaré skrev i
»Albansk forår«
, der udkom efter at han var »hoppet af« til Frankrig, om en strid han havde med Nexhmije Hoxha. Han beskrivelse viser at han havde relativt lang line, men bogen bekræfter indirekte at han ikke havde reel magt, og at han kun kunne øve politisk indflydelse i kraft af sine egne egenskaber og sit renommé.
I Albanien var det ellers sådan (og er det i høj grad stadig sådan) at man kun kunne øve indflydelse ved at have et respekteret »bagland«, især en stærk klan eller familie, men et sådant bagland synes Kadaré ikke at have haft, han var (og er) i det væsentlige en individualist og enegænger. Uden et sådant bagland var hans position i mange henseender usikker, og det er formentlig dette der fik ham til at »hoppe af«. Nok var han anerkendt og nok blev han protegéret, men det var ikke usandsynligt, at »nogle« - netop i en modsætningsfyldt overgangsperiode - kunne finde på at chikanere, overfalde eller endog myrde ham.
Kadare´s politisk-litterære artikler og Dritero Agolli's tilsvarende er optrykt, fordi de er et vigtigt supplement til de to forfatterskaber. Desuden er artiklerne nyttige, når man vil se og diskutere film som
»Kolonel Bunker«
og
»Slogans«
.
---
Noter:
---
Drømmenes Palads
Bogen er én af de bedste Kadaré har skrevet. Den er på én gang simpel og meget kompleks. Den har et godt, næsten surrealistisk plot, den er klar i sin struktur, den er fantasiskabende - og den lægger op til at læseren tænker med. Kendskab til albansk historie er måske ikke
strengt
nødvendigt, men på den anden side udfolder der sig et så betydningsfuldt spil mellem fiktionen og den historiske virkelighed at man kun får en brøkdel ud af bogen, hvis man ikke
har
et vist kendskab til den albanske historie i 1800- og i 1900-tallet.
Fortællingen foregår på en tid hvor Albanien var en del af det Osmanniske Rige - formentlig er det engang i 1800-tallet, måske omkring 1830, for massakren på de albanske stormænd i Monastir i 1820'erne nævnes, og derfor også efter drabet på Ali Pasha .
Bogen har én centralfigur - Mark-Alem - der på mødrene side hører til Qyprilli-slægten; hele bogen ses med hans øjne. Bogen tager sin begyndelse da han, mere eller mindre per protektion, er blevet ansat i Drømmenes Palads,
Tabir Saray
, der er en stor og magtfuld efterretningsorganisation. I Drømmenes Palads samler man ikke informationer om hvad som helst, men derimod alle de drømme der drømmes i det Osmanniske Rige.
Drømmene noteres ned, samles og forsendes med særlige kurérer til Istanbul, hvor de gennemgås, sorteres og viderebehandles på en særdeles grundig måde. Alle læses af underordnede embedsmænd, der vælger de vigtigste ud til nøjere analyse, evt. til sammenligning med tidligere drømme med samme tema - og til sidst vælges den vigtigste,
mesterdrømmen
, ud for at blive sendt til Sultanen. I nogle tilfælde skete der ikke videre, i andre blev drømmen taget som anledning til politisk eller politimæssig handling.
Mark-Alem har fået en solid akademisk uddannelse, men er gået gennem livet uden at være engageret i noget som helst. Hvad han oplever skyldes ikke at
han
har gjort noget, forsøgt noget - men at andre har handlet, og derfor er hans tid i Drømmenes Palads også nærmest drømmeagtig.
Man mærker en tydelig inspiration fra Kafka, der slet ikke nævnes i 1977-artiklen -
1977: Ismail Kadaré: »The Literature of Socialist Realism is Developing in Struggle against the Bourgeois and Revisionist Pressure«
, men derimod respektfuldt nogle gange i den langt senere
»Albansk Forår«
. Var Kafka blev nævnt i 1977 ville det næppe have været af positive grunde; »dogmatikeren« Kadaré ville have været nødt til at tage skarp afstand fra en så opgivende og pessimistisk digtning som Kafka's.
Qyprilli'erne - eller som de ofte skrives:
Koprülü
'erne - var en berømt og mægtig albansk slægt, der i mange generationer var fremtrædende ministre eller embedsmænd for Sultanen. Nogle af de mest berømte levede i slutningen af 1600-tallet, hvor én af dem ledede den fejlslagne belejring af Wien, og som Sultanen lod henrette for ikke at have nået hvad han skulle.
I
Drømmenes Palads
går det én af de mest fremtrædende af Qyprilli'erne ilde, sandsynligvis fordi han - i en bestemt sammenhæng - var fremtrådt med et nationalt, et albansk, ansigt, og på en måde som Sultanen og nogle af hans nærmeste (efter fortællingen at dømme) havde opfattet som en trussel. Mark-Alem gik det derimod godt; han avancerede - og havde, da bogen slutter, opnået en meget høj charge i systemet.
Hvornår
Drømmenes Palads
er skrevet, ved jeg ikke, men et par kapitler udkom - ifølge Shaban Sinani - på albansk i 1979 (sammen med nogle andre tekster) og en fuldstændig udgave i 1981. I begyndelsen af 1982 blev bogen fordømt af en forfatterorganisation og umiddelbart efter forbudt; forfatterorganisationen brød sig ikke om allusionerne til det albanske styre. Kadaré skrev senere:
»[...] det skarpeste angrep på diktaturet som disse linjers opphavsmann har skrevet - Drømmenes palass - lot seg skrive og utgi i Albania på en tid da dette landet var på sitt mest formørkede, i 1981.«
[
»Albansk forår«
, Norsk udgave s. 22].
Kadaré har - et sted i
»Albansk Forår«
- skrevet at han slet ikke var begyndt at skrive bogen med analogisk sigte. Men ingen der kendte til albanske forhold i 1970'erne kunne - da bogen kom frem - undgå at se den endog meget tydelige analogi.
Måske
var der en kerne af sandhed i fortællingen om et drømmenes palads i den Osmanniske periode, men det var tydeligt at dét Kadaré i virkeligheden skrev om, men under overfladen, var den albanske Sikkerhedstjeneste,
Sigurimi
, og frem for alt det kommunistiske partisystem. Systemet benyttede sig déngang af angivere, personlig forfølgelse, kritik-og-selvkritik og ingen, selv ikke de der havde en høj charge, kunne være sikker på deres personlige fremtid. Fra Hoxha greb magten i slutningen af 2' Verdenskrig og frem var den ene efter den anden konkurrent eller kritiker blevet renset ud og blevet enten fængslet eller - som det gjaldt de mest prominente - henrettet, således Koçi Xoxe, der sagdes at være Jugoslaviens-orienteret. Xoxe nævnes flere steder i Kadaré's artikler og absolut ikke for det gode.
At forsøge at publicere en sådan historie - og netop i det socialistiske Albanien, der var én af de mest overvågede og regulerede socialistiske stater - måtte være en provokation for magthaverne, og derfor var det enten overordentlig modigt at skrive og forsøge at udgive den - eller også var det eventyrligt dumdristigt. Det eneste Kadaré kunne håbe på var at dé der sad inde med den
virkelige
magt var optaget af noget andet, eller at de måske ligefrem ville vurdere bogen positivt; læste man déngang bogen, blev man ikke animeret til at »stikke snuden frem«, og måske kunne dét passe nogle af de øverste magthavere meget godt? Men i den sidste ende
blev
bogen dog forbudt (så vidt det er oplyst).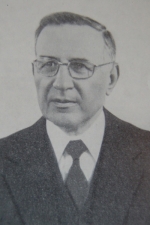 Mehmet Shehu i:
»Report on the 6th Five-Year Plan (1976-1980)«
, 1976
I 1980 og '81 var Hoxha'erne (og alle andre i deres gruppe) stærkt optaget af de voksende uoverensstemmelser mellem Hoxha og nr. 2 i hierarkiet, Mehmet Shehu, der havde spillet en betydningsfuld rolle lige fra Befrielseskampene under 2' Verdenskrig. Albanien havde netop brudt med Kina og stod ganske alene på Balkan, hvortil kom at man nu ikke længere fik tilført betydelige økonomiske og andre midler udefra; tidligere havde - efter tur - Jugoslavien, Sovjetunionen og Kina - støttet Albanien.
Hvad uoverensstemmelserne mellem Hoxha og Shehu i virkeligheden drejede sig om, er - så vidt jeg ved - ikke helt klarlagt, men formentlig var de i stigende grad blevet uenige om hvordan man skulle komme videre; om man skulle følge en strengt
stole-på-egne-kræfter-linie
, som var »smuk«, men næppe særlig realistisk - eller om man tværtimod skulle forsøge en åbning mod Vesteuropa?
17.12.1981 blev Shehu fundet død i sin seng - angiveligt havde han begået selvmord, muligvis var han blevet byrdet af én af Hoxha's håndgangne mænd. Kort efter påstod Hoxha at Shehu havde været flerdobbelt agent for udenlandske kræfter. Så tiden omkring 1981-1982 var vitterlig, som Kadaré selv har været inde på, én af de mest mørke perioder i det socialistiske Albanien.
---
Note og henvisninger:
---
Agamemnons datter
[Bogen er under oversættelse til
Engelsk
og Dansk. Kommentar til bogen følger senere. Bogen er angiveligt skrevet i 1985].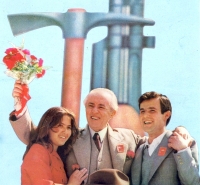 1. maj 1981, Tirana. Enver Hoxha i midten.
Forsiden af
»Albania Today«
# 3/1981
Dén datter der tænkes på er ikke Elektra, men Ifigineia. Euripides har skrevet to dramer om hende, det første om Agamemnon's ofring af hende i Aulis og det andet om hendes (og broderen) Orestes' flugt fra Tauroi -
»Iphigeneia i Aulis«
og
»Iphigeneia i Tauroi«
; de to dramer kan findes på dansk i Christian Wilster's oversættelse via:
http://www.mahler.suite.dk/frx/euripides/bacchus_start_side.htm
[Vælg pågældende drama og benyt derefter '>>'-muligheden i
øverste
linie for at bladre frem].
Foreløbige noter: Det er en meget besynderlig historie. En ung mand ved radio/TV er kæreste med #2's datter, Suzana, men hun ofrer sig (på faderens forlangende) på en uklar måde og dropper ham. Det går den unge mand og tygger på - samtidig med at han diskuterer med sig selv, hvad det koster at blive til noget - og det er åbenbart temmelig meget, i det mindste så meget at man næsten får medlidenhed.
Den unge mand har åbenbart spillet en rolle i opgøret med de albanske »kinesere«, men synes politisk set at være skingrende naiv. I det mindste virker hans formodning om hvorfor datteren har droppet ham (at en ny stor udrensning, som hendes far skulle stå i spidsen for, var undervejs), at være ikke så lidt konstrueret.
Hele historien foregår på én dag, 1. maj, hvor den unge mand - til forbløffelse for sig selv (?!) og hele sin omgangskreds - har fået plads på én af de mest fornemme tribuner.
Man kommer uvilkårligt til at tænke på Kadaré's komplekse rolle i Hoxha-perioden. Måske er bogen et forsøg på - midt i 1980'erne, efter Mehmet Shehu's død, men før systemets sammenbrud - at skrive sig ud af sin egen og af den albanske politiske elendighed? Måske har udgivelsen i 2006 et tilsvarende formål?
#2 refererer i virkelighedens verden til Mehmet Shehu, og forlovelseshistorien til en virkelig forlovelse: Mehmet Shehu's søn (ikke en datter) ville forlove sig med en pige fra en »problematisk familie«, se nærmere i
»The Titoites«
.
---